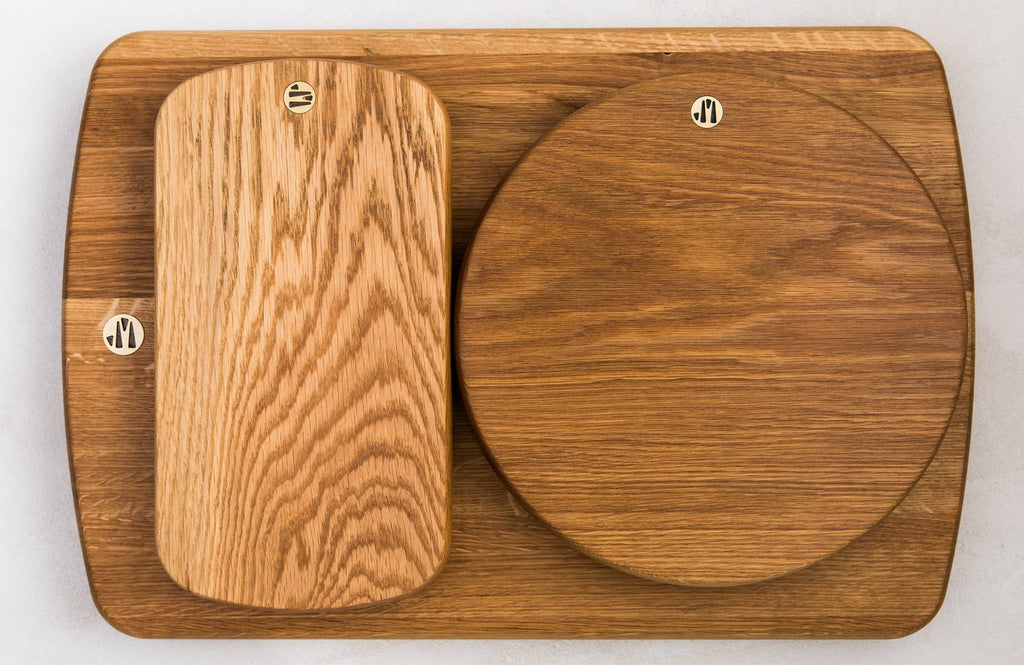 Jacob May
Hudson Cutting Board
The Jacob May cutting board collection adds a nice visual and functional element to any kitchen or bar. Cork feet float the boards off the counter, protecting your surface as well as providing a soft shadow line and preventing moisture from being trapped between surfaces. The soft oval edges and subtle finger grooves allow for comfortable handling as you move ingredients around the kitchen, or onto the table for serving.
Each board is designed to function beautifully when cooking a big family meal—Chop your veggies on the large workhorse board, julienne herbs on the small one, then save the round board for serving and displaying at the dinner table. When clean-up time comes, they stack in a neat pile on your counter.
Our small and round boards are great fixtures for your cocktail bar, or next to that fruit bowl where you always need a small cutting surface handy for whatever's in season.
Sizes
Round - 12" Diam x 1.3"
Large - 22.5" L x 15" W x 1.8"
Small - 12.5" L x 6.5" W x 1.3" T
Details
Beeswax Finish
Brass Logo Piece
Cork (feet)
Domestic Solid Hardwood
Mineral Oil
Handmade in Oakland, California